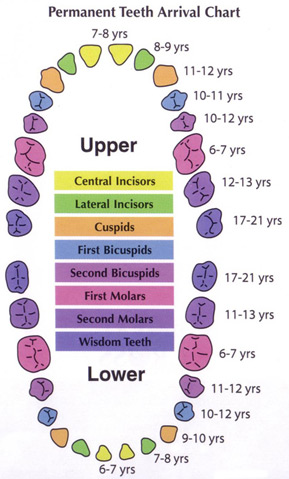 The primary, or "baby teeth", play a crucial role in dental devolopment. Without them, a child cannot chew food properly and has difficulty speaking clearly. Primary teeth are vital to development of the jaws and for guiding the permanent (secondary) teeth into place when they replace the primary teeth around age 6.
Since primary teeth guide the permanent teeth into place, children with missing primary teeth or infants who prematurely lose primary teeth may require a space maintainer, a device used to hold the natural space open. Without a maintainer, the teeth can tilt toward the empty space and cause permanent teeth to come in crooked. Missing teeth should always be mentioned to your family dentist. The way your child cares for his/her teeth plays a critical role in how he/she treats the permanent teeth. Children and adults are equally susceptible to plaque and gum problems-hence, the need for regular care and dental checkups.
Use a toothbrush with soft bristle and a small strip of fluoride toothpaste. When you brush your teeth, move the brush in small circular motions to reach food particles that may be under your gum line. Hold the toothbrush at an angle and brush slowly and carefully, covering all areas between teeth and the surface of each tooth. Brush up on the lower teeth, down on the upper teeth and outside, inside and chewing surface of all of your front and back teeth. Brush your tongue and the roof of your mouth before your rinse.
Brush your teeth three times daily to avoid the accumulation of food particles and plaque:
In the morning after breakfast
After lunch or right after school
After dinner, or during bathtime
As soon as the bristles start to wear down or fray, replace your toothrush with a new one. Do not swallow any toothpaste; rinse our mouth thoroughly with water after your finish brushing. It is important to carefully floss and brush daily for optimal oral hygiene.
For areas between the teeth that a toothbrush can't reach, dental floss is used to remove food particles and plaque. Dental floss is a thin thread of waxed nylon that is used to reach below the gum line and clean between teeth. It is very important to floss between your teeth every day.
Pull a small length of floss from the dispenser. Wrap the ends of the floss tightly around your middle fingers. Guide the floss between all teeth to the gum line, pulling out any food particles or plaque. Unwrap clean floss from around fingers as you go, so that you have used the floss from beginning to end when you finish. Floss behind all of your back teeth.
Floss at night to make sure your teeth are squeaky clean before you go to bed. When you first begin flossing, your gums may bleed a little. If the bleeding does not go away after the first few times, let a staff member know at your next dental appointment.
Fluoride
Fluoride is a substance that helps teeth become harder and resisitant to decay. Regularly drinking water treated with fluoride and brushing and flossing regularly ensures significantly lower cavities. Dentists can evaluate the level of fluoride in a primary drinking water source and recommend fluoride supplements (usually in tablets or drops), if necessary.
Good Diet and Healthy Teeth
The teeth, bones and soft tissue of the mouth require a healthy, well-balanced diet. A variety of foods from the five food groups helps minimize (and avoid) cavities and other dental problems. Most snacks that children eat cause cavities, so children should only receive healthy foods like vegetables, low-fat yogurt and cheeses, which help promote strong teeth.